this post contains affiliate links
You can raise kids who are cooperative, fun, respectful and obedient without fear of turning them into repressed robots.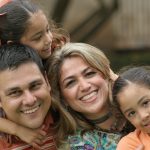 1. Respect them Respect their God-given individuality, their interests, their gifts. They may not be like you. They may not perform the way you want them to. They may not like the things you like. They are not meant to be mini-me's.
2. Affirm their worth and dignity. They need to know they are valued. Listen to what they have to say, give them your full and undivided attention. Ask questions about what is important to them. This is a sure way to build a stronger, more respectful and cooperative relationship. [Read more…]