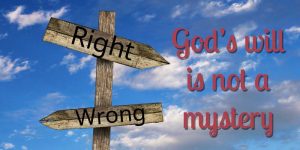 We were "created in Christ for the good works which God prepared ahead of time so that we should walk in them," Ephesians 2:10. I don't know about you, but that verse has haunted me for years. What good works? What, exactly, should I be doing? How do I know it's the right thing? What if I do the wrong thing? It can be absolutely paralyzing to spend your days worried that you are failing God by not doing the good works He has prepared for you.
I know lots of people will tell you – just pray about it and God will show you what to do. But, the huge problem with that is it smacks of trying to do good works in order to please God and earn His favor. When we persist in trying to do good works, we have to ask ourselves why? What is the motivation behind seeking good works as the highest aim of our day? We cannot earn anything from God by being good enough. And that's the tension. The verse in Ephesians seems to tell us there is a good work just waiting for us to put our hands to, if we could just find it.
Scripture, taken out of context will always lead us into trouble. If you look at the whole chapter of Ephesians 2, it is all about the glory of God bringing all people into one body in Christ. It speaks of the correlation between God's grace and our relationships with others. Walking in His grace leads to healthy, whole relationships.
Today, when I was meditating on the whole chapter I simply could not wrap my head around why, all of the sudden, right there in the middle, it was apparently telling me I needed to do good works. That seems completely out of context.
Then I realized the truth. We are created to walk in the good works which Christ has already completed. He has done the work, it is finished. He said so when He died. The last words of Christ were "it is finished." God is not waiting for me to do the right things in order to make Him happy. The truth is, when I walk in obedience, whatever I do is already good works. The good works are already there, done and waiting for me to walk in them, not to build them. I cannot miss them, provided I am walking in obedience, by faith. Those good works will result in restored relationships, blessing and edifying others. That is His will for you! It is not the works He is interested in, it is our heart attitude as we go about our day.
It is like a walking a path that goes over a bridge. The bridge is already in place, finished, complete. I don't have to build it. As long as I follow the right path I will walk in the completed work of that bridge. It is unavoidable. When I start my day praying that the greatest delight of my heart would remain on knowing Christ, I will inevitably walk across a bridge that gives me the opportunity to practice Christ-like love for someone else.
The opportunity was already in place, prepared by God beforehand. How I meet the opportunity, how I respond to the people with whom I come in contact, will either be a good work, or a selfish one, depending on the attitude of my heart. I do not have to go out and look for good works. I don't have to come up with the right role to fill or goals to set in order to find the good works I was created to do. I will come across them. It is inevitable. When I am walking with Christ and my heart is focused on obedience to Him, whatever comes up during the day WILL be a good work.
If the greatest desire of our hearts is to know Christ, and our daily prayer is to see Him revealed in all we do, then we can rest in absolute assurance our path will lead right over those good works which He placed along the path for us to walk in.
Please tell me I'm not alone in having struggled with trying to find the perfect "good works" to do each day!